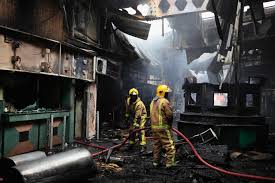 Domestic and cargo flights have resumed at the Jomo Kenyatta International airport following an early morning fire that destroyed the airport's international arrivals hall.
The fire is said to have broken out at around 5am causing the airport to be closed, while all departures were cancelled and flights diverted to other airports.
In a statement, Kenya's Cabinet secretary for transport Michael Kamau said there is partial commencement of operations but international flights had not yet been cleared.
Kamau says the airport's Unit 3 will be used for international arrivals and departures, while the cargo and domestic flights will operate from the Cargo terminal.
Meanwhile, a Kenya Airways flight 113 from Paris has been diverted to Mombasa this evening while flight 101 from London and 887 from Bangkok will arrive in Nairobi as scheduled tomorrow morning and processed at the domestic terminal.
The Kenyan government has ruled out terrorism as the cause of the fire.