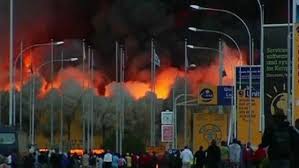 The closure of Kenya's Jomo Kenyatta airport due to a fire outbreak has affected some flight schedules at Entebbe International Airport.
The Civil Aviation Authority says it has suspended flights from Entebbe to Nairobi until the situation at Jomo Kenyatta airport normalizes.
The Deputy Public Relations Officer Vianney Luggya says no flights have been diverted to Entebbe yet although he says they are ready and have the capacity to give the necessary assistance if need arises.
In Nairobi, Kenya's Airport Authority says no casualties have been reported.
The blase whose cause is yet to be established comes two days after air crafts were delayed several hours after the failure of a fuel hydrant needed for refuelling planes.