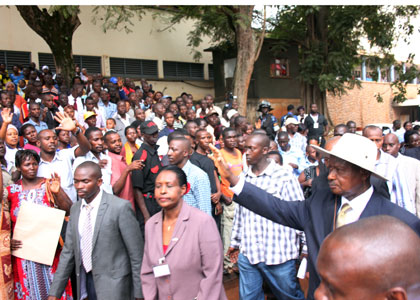 Government has fulfilled its promise to support victims of the Namungoona fire.
13 patients have so far received 5million shillings out of the 52 people supposed to receive the money.
State house comptroller, Ruth Nakyobe says that for those who lost their lives, the money is to go to their parents or next of kin.
Nakyobe says they are using the list of patients and the deceased at Mulago Hospital to trace the families.
There was however drama in the intensive care unit when a nineteen year old was not given the money because he did not have a caretaker.
After the intervention of other patients and doctors however, he was also handed 5million shillings.
More people continue to wait for the identification process which is still ongoing.
Meanwhile, The Mulago Hospital Burns Unit requires up to Shs 100m to treat one patient in just one week.
This has been revealed by Dr. Robert Ssentongo, the head of the Unit while speaking to visiting Members of Parliament this afternoon.
They were visiting victims of the Namungoona Inferno who are still fighting for their lives at Mulago hospital.
He also revealed that the lack of man power is limiting their response to patients' needs, with 4 to 8 nurses needed per day.