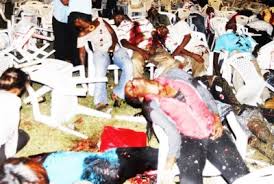 The constitutional court has dismissed an application by 11 terrorism suspects challenging their trial in Uganda
The group was opposed to their extradition from Kenya and Tanzania to Uganda for trial
However the five constitutional court justices led by Steven Kavuma ruled that it is not against any law to extradite a suspect to the best place of trial.
The justices also said that Uganda had sought assistance from Tanzania and Kenyan authorities to help in arresting the suspects which was done.
They also say that the charges against the accused are grave and releasing them would be a threat to security regionally and internationally hence the need to keep them under detention.
Concerning the complaints raised by the suspects that they had been forced to sign confession statements, the judges asked them to table their concerns to the High court during trial
They have now been remanded to Luzira prison until the high court sets a date for the hearing of their case
The suspects are charged with being behind the 2010 July bombings at Kyaddondo and Ethiopia Village restaurant that left over 70 people dead.