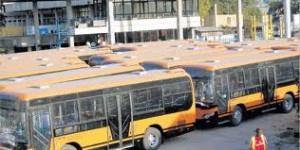 More trouble is brewing for Pioneer Easy Bus Company.
Days after its buses were grounded over tax evasion, it now emerges that the city bus operator could lose up to Shs. 70million for failure to pay a company that trained its drivers.
Pioneer Easy Bus limited has been dragged to the Commercial Court by ETS International Driving Agency limited seeking for recovery of Shs.70 million covering interest and legal costs.
Through its lawyers of Buwembo and Company Advocates,  ETS claims that Pioneer agreed to pay Shs. 85,000 shillings per driver for recruitment and training services.
Pioneer undertook to pay the said money in three equal monthly installments after the drivers were offered employment.
However, according to ETS, by December 2011 they had completed the recruitment and training of 346 drivers at a total cost of over 142 million but only 80 million was paid leaving an outstanding balance of Shs. 62 million.
Commercial Court registrar Margaret Tibulya has now given Pioneer Easy Bus fifteen days within which to defend itself on the allegation.
The case is allocated to Commercial Court Judge, Justice Masalu Musene.