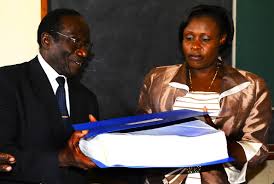 The Uganda national examinations board has released the primary leaving examinations results 2014 showing a slight improvement in performance.A total of 60,956 pupils scored grade one, 253,546 were in grade two , 127,350 in grade three, 475,009 in grade four while 68,759 failed.Pupils did SST subject best while English was the worst done subject.
Wakiso topped the list of best performing district followed by Kampala while Bukwo , Bulambuli, Luwuka and Kwen are among the worst districts
Urban districts also beat their rural couterparts with municipalities like Frtportal, Entebbe, Mbarara, and Rukungiri outshining others.
A total of 1,344 results were also withheld over malpractice
The most common form of malpractice included Impersonation, external assistance and substitution.