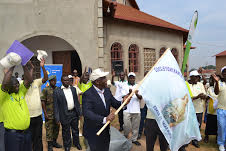 The Church has been lauded for undertaking huge development projects with the support of their parishioners without relying on foreign donor support.
Prime Minister Amama Mbabazi has noted that the church is still a head of government when it comes to being self-reliant.
Mbabazi was this morning speaking at St. Agnes Catholic Church in Kibuye, Makindye in Kampala where he flagged off participants of charity walk aimed at raising funds for the completion of the new Church.
The Church parishioners have so far raised and spent about 1 billion shillings on the construction of the new church since 2008, and they require another 238 million shillings for completion before official opening in December 2014
"Government is cognizant of this partnership with the church. Wherever you find a parish church you find a school, a health center or a development project," Mbabazi clarified.
He said Uganda's plan to fund 82% of the budget using its own resources is a great achievement because it has reduced donor dependence to only 18%.
Mbabazi contributed sh 5 million on behalf of the Prime Minister's office and another sh5 million on his personal behalf towards the completion of the church.
He has asked the church leadership to refrain from misuse of funds and ensure total transparency and accountability.
"Thank you for being disciplined by collecting funds and putting them to good use. Criminality in the use of funds has been common in Government, but now even in non-governmental institutions, this disease is prevalent," Mbabazi said.