By Damali Mukhaye
Police has arrested 113 suspects for allegedly terrorizing people most especially in Kampala.
Addressing journalists at the central police station, the commandant Kampala metropolitan police Frank Mwesigwa said those arrested have been on the police watch list for a while now following reports of murder, robbery and theft.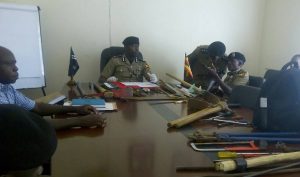 The suspects are believed to have been terrorizing residents in the suburbs of Najera, Kira division, Makindye, Bwaise, Kalerwe, Ntinda and some parts of Mukono.
Mwesigwa says some of the tools that were recovered include one gun and pistol with bullets, a toy pistol, panga, knives iron bars and other sharp objects.
He notes that 92 people have already been tried in court and remanded to Luzira and 21 will be tried as well.