The Inspector General of Police General Kale Kayihura has asked Kampala Capital City Authority to re-schedule the swearing in of the lord mayor and councilors due to many activities that require police presence.
According to the police spokesperson Fred Enanga this week police is overstretched by presence high profile guests and activities that require thorough policing.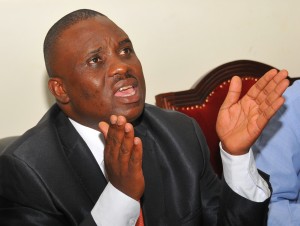 These include the Namugongo Martyrs' Day celebrations slated for June 3rd, the visit of two heads of state and the State of the Nation Address.
Enanga has told journalists that with all these activities going on, the police will not have adequate personnel to man the various points thus the need to postpone the swearing-in ceremony.
He adds that police will be ready to secure this function on June 6th.
The lord Mayor-elect EriasLukwago had been scheduled for swearing in on May 20th, but the event was pushed to June 1st because names of some councilors were missing in the gazzatte.