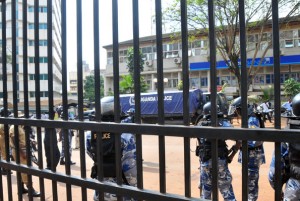 The police have vowed to block the planned procession by the city lord mayor.
Embattled lord mayor Erias Lukwago plans to lead a procession from his home at Wakaliga to his office at City Hall this morning to resume his duties.
This follows yesterday's High Court ruling by Justice Yasin Nyanzi, that nullified the council meeting that had impeached the lord mayor.
However the police deputy spokesperson Patrick Onyango says no such activity will be allowed.
He says that to avert any possible clashes between the two parties, the police have been deployed at all strategic points including city hall and Lukwago's home.
This comes after the city executive director Jennifer Musisi announced the shutdown of the authority's technical wing citing a hostile working environment.