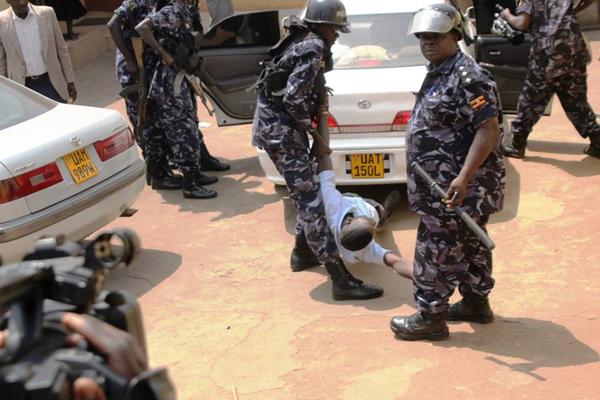 A group of journalists has matched to the police headquarters in Naguru protesting the police brutality that has seen several Journalists rights abused in the past few years.
Led by the Human Rights Network for Journalists, the scribes camped at the police headquarters where they expect to deliver a petition to the Police Chief General Kale Kayihura.
This is after two journalists were assaulted yesterday by a police officer as they covered a peaceful demonstration by a group of NRM youth. The group had earlier been blocked.
There was a standoff that lasted nearly one hour, grounding traffic. Police used pepper spray in an attempt to disperse the Journalists, who were marching to police headquarters in Naguru, to petition the IGP Gen. Kale Kayihura.
Earlier the police spokesperson for Kampala Metropolitan Patrick Onyango confirmed that Old Kampala DPC Joram Mwesigye had been arrested, and that he had recorded statement at CPS.
He assaulted a number of reporters and attacked a WBS TV Journalist Andrew Lwanga destroying his Video camera.
We have reports that Lwanga lost consciousness moments ago when he had been taken to the police Surgeon and now he has been rushed to Nsambya hospital in critical condition.
The journalists were yesterday covering a demonstration by the pressure group unemployed youth in Uganda when the police officer assaulted them.
Earlier, the Journalists announced a media blackout on the coverage of all police events following the assault.
It will only be lifted when the police satisfactorily resolve the growing discontent among media practitioners in Uganda.