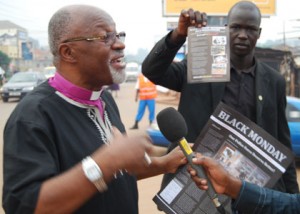 The police has today cleared anti-corruption activist Bishop Zac Niringiye to travel abroad, pending the charge he faces over the Black Monday campaign.
This is after he presented his passport and air ticket to the police, confirming the trip to Italy.
Niringiye appeared before the deputy Officer in Charge CID at Wandegeya police station Simon Asaba this morning on charges of inciting violence and publishing seditious material.
He had sought permission to travel on Wednesday but police first refused to grant it until he produced a passport and ticket confirming the trip.
He has now been ordered to report again on the 11th-March-2013.
These charges relate to the black Monday campaign which is against corruption.
His lawyer Nicholas Opio says he wants his client produced before court as soon as possible.