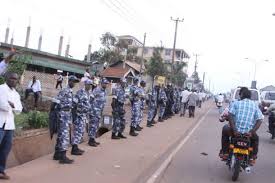 The Police is heavily deployed at the home of former FDC leader Dr. Kiiza Besigye and the Lord Mayor Erias Lukwago.
According to the Lord Mayor, the officers that are led by afande Samuel Omala arrived this morning.
Lukwago however says he has contacted his colleagues to discuss the way forward.
Meanwhile at Besigye's home, the situation is not any different.
The police have however stopped at the road that heads to Besigye's home.
Last week the police was engaged in running battles with supporters of the two opposition leaders after blocking their planned rallies.