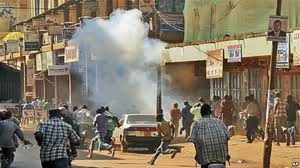 The police have fired tear gas to disperse rowdy vendors of Wandegeya market.
The vendors are opposed to the inauguration of an interim management committee appointed by the city executive director Jeniffer Musisi.
A meeting that had been called to swear in the 8-member team has flopped after the vendors walked out in protest.
They claim that they were not consulted yet they want to choose their own leaders.
The executive director's pleas for patience have fallen on deaf ears prompting the police to step in and restore order.