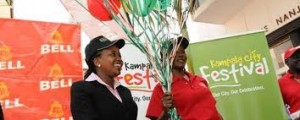 The police have issued traffic guidelines ahead of the Kampala Capital City Authority festival.
According to Ibin Senkumbi, the police spokesperson Kampala Metropolitan, starting tomorrow a section of Kampala Road and Jinja Road will be blocked.
The affected section is the stretch from Watoto Church to Kitgum House near the Jinja Road Round-About.
Senkumbi adds that security at the event is assured with the deployment of 4000 police officers to man the event.
Meanwhile, the Kampala Capital City Authority spokesperson Peter Kawuju says they expect 100,000 people to take part in the event slated for Sunday 6th October.
He also reveals that the over Sh 890m has been injected into the event.
Some of the activities lined up for the festival include a cyclist's show, animal exhibition as well as mini exhibitions by corporate companies.