By Ssebuliba Samuel.
Police has placed a reward that will go to a person who can provide it with relevant information that help in the arrest of person suspect to have murdered late Susan Magara.
Late Susan Magara was kidnaped early this month, but her body has be found dumped along the newly constructed southern bypass.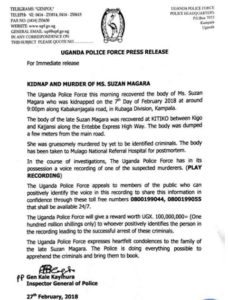 Speaking to media this afternoon, Abas Byakagaba the director oil and gas who is commanding this operation said that police has obtained an audio of suspected murder and thus who ever can help them identify person in that audio stands to win 100 million.
He said that police has widen the scoop of its investigation to cover all suspected area that can led to the arrest of these criminals.
A young woman at the age of 28, Magara worked as an administrator at a family business owned by her father, John Magara