By JOSEPH KATO AND DERRICK WANDERA:
Police have blocked Kyaddondo East MP Robert Ssentamu Kyagulanyi aka Bobi Wine upon his arrival at entebbe. Bobi wine who was returning from a trip to New York was on his way to kampala.
Kampala Metropolitan police spokesperson, Emilian Kayima, confirmed that police had blocked Bobi Wine because his procession was going to antagonise traffic flow on the highway.
"Our commander engaged him because his procession was going to paralyse traffic flow at the highway. The commander sat with him and he was very okay with it. We have not arrested him," Mr Kayima said.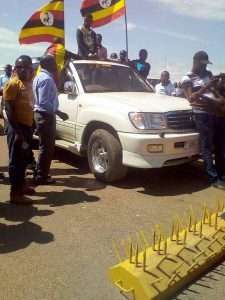 "On top of the procession and public gathering, the police have also questioned the Bobi Wine on the audio that is attributed to him that has been doing rounds on social media platforms," added Mr Kayima.
The driver of the tow truck refused to tow away Bobi Wine's car in Entebbe citing no wrongdoing on the Kyaddondo East legislator's part.