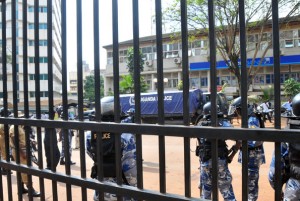 City Lord Mayor Erias Lukwago has called off his planned procession.
Lukwago had earlier planned to march from his home in Wakaliga to his office at City Hall but this was not possible due to the heavy police deployment at all strategic points.
He told journalists that he has decided to call off the procession due lack of logistical support as most of the area Members of Parliament were attending the special session on South Sudan. Lukwago said he had now decided to re-strategize.
The Police have also blocked Mukono municipality MP Betty Nambooze from accessing town. Nambooze was intercepted at Namanve as she accessed town. She has now retreated home but vowed to petition the speaker saying she can no longer do her work.
At city hall, heavy police deployment remains, with a tear gas track packed near the entrance while hundreds of officers are seen camped in the gardens and all around the city authority offices.
Lukwago was impeached late last year following a majority vote by councilors who accused him of incompetence.
However, The High Court issued an order blocking his impeachment, but the Attorney General has maintained that he is no longer recognized as lord mayor.