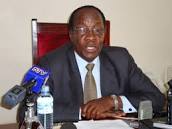 All is set for the Bubulo West by-elections in Manfwa district.
The Electoral Commission has this morning released the program for the by-elections, with April 10th, 2014 being the set polling date.
Electoral Commission Chairman Eng. Badru Kiggundu (pictured above) says organizing the exercise will cost Shs.418 million.
He says nomination of candidates will be conducted from 24th to 25th March; thereafter successful candidates will begin their 12-day campaign which will run from 27th March, to 7th April.
The seat was declared vacant after the former MP, Tonny  Nsubuga Kipoi was thrown out of parliament after he missed more than fifteen house sittings without the Speaker's approval.
Eng. Kiggundu says by-elections will also be conducted to fill vacant positions at the Local council levels in Bubulo West.