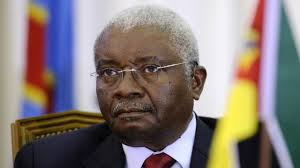 President Armando Guebuza of the Democratic Republic of Mozambique is expected in the country for a four day state visit.
He is expected to be the chief guest at Uganda's 51st Independence Anniversary celebrations.
He arrives in the country tomorrow ahead of the event that will take place in Rukungiri district on Wednesday.
On his arrival, President Guebuza hold a bilateral meeting with his host President Yoweri Museveni at State House Entebbe.
The two leaders will thereafter hold a joint press briefing.
 On Thursday, President Guebuza will deliver a lecture to senior officers and commanders at the Senior Command and Staff College Kimaka, Jinja.