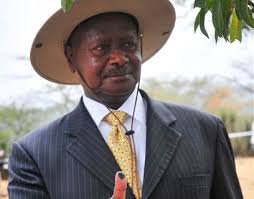 Uganda can support its own projects without aid.
President Yoweri Museveni has said that Uganda's dependence on donor support should stop.
While commissioning Parliament's Sh.36 billion multi-level car park this morning, Museveni said reliance on development support by Uganda has over the years reduced, with local budget support increasing.
He said the multi car park is an example of government supporting its projects without foreign aid.
The President's remarks come a day after the United Kingdom cut aid to Uganda over diversion of about 5.2 billion shillings. 
Meanwhile, the president also emphasized that the private sector is the major driver of the economy.
President Museveni said focus on enhancing private sector growth is the answer to Uganda's economic problems.
He said economic stability helps to boost the population's income, adding that government will continue to create a conducive environment to support the private players.