By Benjamin Jumbe.
President Museveni has underscored the need to reinforce the capacity of the Marine by installing surface radars that can scan and locate every boat on the water.
The President was speaking during the commissioning of new marine boats procured from South Africa at a ceremony held at Port Alice Pier Military Base in Entebbe.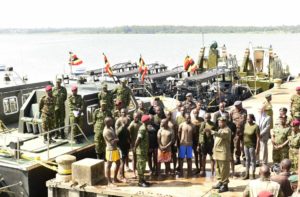 He said it is crucial for the country to have water security at its borders and in land to defend the country's fisheries and also stop border lakes from being used by terrorists and criminals.
The president also reiterated that just like motorcycles and vehicles that had to have electronic number plates on them, it was necessary for the Marine boats to be electronically marked to curb crime on the waters.
He also cautioned Ugandans against building near fish breeding places and illegal fishing activities