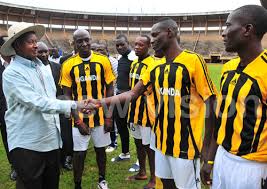 A good diet and personal discipline is crucial in sports.
This is the advice given by President Yoweri Museveni to the Uganda Cranes.
He was this afternoon flagging off the national football team at Statehouse Entebbe.
The team leaves on Thursday for a build-up match against Botswana ahead of the World Cup qualifier against Senegal slated for September 7th in Morocco.
The president has also given the team Sh 384m to cater for the players' tickets.
He has given another Sh 559m for chattering a plane for fans to support the team in Morocco.