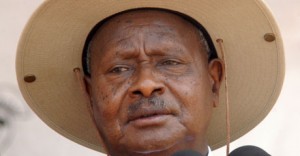 The death of the father to President Museveni Amos Kaguta has been confirmed by State House.
Mzee Kaguta passed away at the International Hospital Kampala.
The Presidential Press Secretary Linda Nabusayi has confirmed the unfortunate death.
He has died at the age of 96
His wife, and mother to the President Esteri Kokundeka passed away in November 2001.
A brief statement from the Presiden't Press Secretary Linda Nabusayi reads;
"Mr Museveni and all Kaguta family wish to announce the death of their father Mzee Amos Kaguta, 96, which occurred today February 22 at 0700 hrs at International Hospital in Kampala.
The family thank[s] all the doctors that cared for Mr Kaguta in his last moments. Burial arrangements will be announced later. May Mzee's soul rest in peace,"