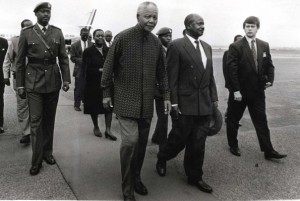 President Museveni has hailed the fallen South African president for his struggle for freedom of South Africa and its people.
In a condolence message to the South African president Jacob Zuma, Mr. Museveni praises the late and other colleagues for acquitting themselves admirably by doing what they ought to have done.
He says the challenge now remains with the current generation of leaders and those who are younger to consolidate the work of those elders and ensure that Africa is immunized against future marginalization and re-colonization.
Parliament will next week on Tuesday hold a special session in honour of the late former South African leader, Nelson Mandela.
Mandela passed away early on Friday morning at his home in Johannesburg after a prolonged lung illness.
The Speaker of Parliament, Rebecca Kadaga has told journalists that a condolence book will also be opened to the public to pay their last respects to the fallen leader and later sent to South Africa.
Kadaga described Mandela as a true example of good leadership, whose heroic acts in ending apartheid and promoting peace will never be forgotten.