By Samuel Ssebuliba.
President Yoweri Museveni is optimistic that Uganda will soon qualify to the World Cup finals.
While receiving the 2018 FIFA World Cup trophy at State House Entebbe this afternoon, the president said that although Uganda did not qualify in 2017, it still has potential to challenge other countries.
He says that this is a rare opportunity which also shows that Federation of International Football Association recognizes Uganda's footballing abilities.
The president is also hopeful that the trophy will help boost Uganda's tourism as the world follows it through international media
Earlier it was all excitement at Entebbe International Airport where the FIFA World cup trophy, the most prestigious global award arrived from South Africa this afternoon.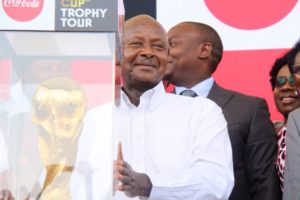 The trophy was received by the state minister for sports Charles Bakabulindi and the FUFA president Moses Magongo as well as several Coca Cola International officials.
Meanwhile the SC Villa captain Bernard Mutyaba who was also the Uganda Cranes captain at the Chan Competition in Morocco says the world cup is a big inspiration to Ugandan players.
He says although Uganda has failed on several attempts to qualify at world level, the dream is still alive.
This is the second time in 9 years that the Federation of International Football Associations World Cup original trophy is in the Uganda.
Members of the public will tomorrow be given the chance to have a photo moment.