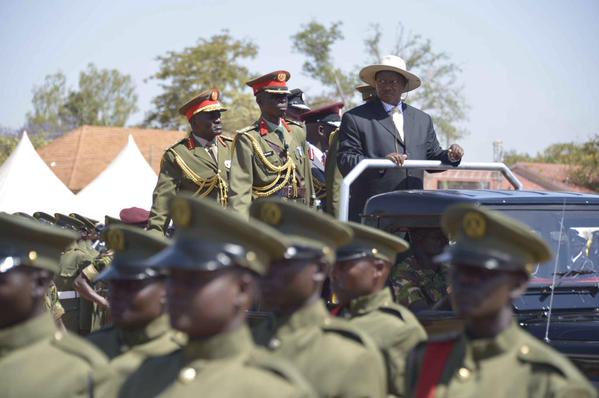 President Yoweri Museveni has warned against all forms of impunity in the country.
The president who is speaking at the 34th Tarehe Sita celebrations at Naitakwai stadium in Moroto district says the ongoing murders will not be tolerated.
He has also warned against cross border attacks in Karamoja sub region saying those caught shall be dealt with accordingly.
The president was accompanied by the First Lady Janet Museveni, Prime Minister Dr. Ruhakana Rugunda, Acting Chief Justice Stephen Kavuma among other senior government officials.
Speaking at the same event, Defence minister Dr Crsypus Kiyonga said the future was now bright for Karamoja with total disarmament almost achieved.
Earlier, the UPDF Chief of Defence Forces Gen. Katumba Wamala rubbished reports of the planned deployment of UPDF troops in Nigeria to fight Boko Haram saying the multinational African Union is sufficient.
He however, said deployment within the region is to continue to ensure total security.
Gen. Wamala has also challenged the army to do more to consolidate the achievements registered over the past two decades.
He has also vowed to priorities discipline in the force saying it is a key prerequisite for a professional army.
In Kampala, Tarehe Sita celebrations have been held at the Pan African Square.
Meanwhile, the UPDF and military police have offered medical services to patients at Kisenyi health centre IV as one of the day's main activity.
The UPDF medical team has carried out malaria treatment, immunization and testing for HIV to over 120 people.
UPDF Senior clinician Capt. Moses Kintu says this is one of the ways the updf can connect well with civilians.
Terehesita is marks the National Resistance Army's first attack on Kabamba barracks in Mubende on 6th February 1981 which resulted into a five year bush war that led the NRM in power in 1986.
Earlier, KFM's Herbert Zziwa filed this report while the Kampala RCC led the army procession through the city.
In Mubende district, the Tarehe Sita celebrations are being led by the Deputy in charge of the Mubende Rehabilitation Centre Centre Lt. Col Francis Kasimbaazi.
Soldiers at the Centre have joined the celebrations by marching along Mubende streets chanting army songs.
Lt. Col Francis Kasimbaazi says Mubende is of great significance to the government in terms of the NRM struggle because the first bullet was fired   there.