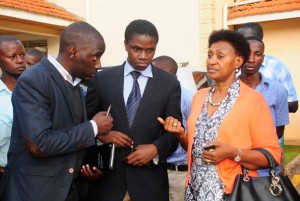 The Director of public prosecution has withdrawn charges against two NRM youth leaders.
This is after the parties involved in the case agreed to settle the matter out of court
This was revealed by the DPP's representative Jane Francis Abodo.
Omodo omodo who is the national vice chairman in northern region and Adam Luzindana were facing charges of corruption.
The duo is said to have solicited signatures from NRM members with the intension to call a delegates' conference to challenge the proposal to have President Museveni contesting unopposed.
They appeared before anti-corruption chief magistrate Sarah Langa