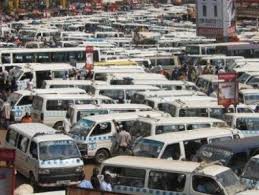 The strike by public transport operators has been called off.
This has been resolved at a meeting held between the transporters' leaders and the police chief Gen. Kale Kayihura at the police headquarters in Naguru.
According one of the leaders Abdu Kitata of the Allied Public Transporters, they have resolved to create a 20- man committee to organize election of a new management committee within one month.
They have also agreed to have all taxis that had been impounded by KCCA and all the people arrested today released unconditionally.
In the meantime KCCA enforcement officers and police have taken over management of the public transport sector in the city.
Hundreds of Kampala residents were this morning stranded in various suburbs of the city as transport operators started their sit down strike.
A section of players in the transport sector under National Union of Drivers, Cyclists and Allied workers last week announced a sit down strike after failing to agree with KCCA on the new transport guidelines.
They accuse TAPSCOM, a committee that was established by KCCA to oversee the transport sector in the city of mistreatment.
However, other transporters under Uganda National Lorry Drivers and Transporters Association and Kampala Metropolitan Association are against the strike and have accused the strike organizers of having personal interests.
Many people were forced to trek to the city center from the various parts of Kampala.