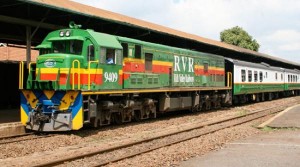 Over 700 workers at the Uganda rift valley railways are on strike. This is after three of their colleagues were allegedly fired unfairly.
The workers say their problems stem from the contracts that were signed after Rift valley railways took over from the Uganda railways corporation.
Through their union, the workers accuse the management of RVR of failing to implement details in the contracts about payment to workers who are supposed to be laid off.
The Uganda Railway Workers Union secretary Victor Yenaro says there is a redundancy plan the company has undertaken and this has created an air of uncertainty among the workers.
"We have been asking ourselves why the company has to keep this redundancy plan so long, because it demotivates and frustrates workers since they don't know what will happen tomorrow," Yenaro told KFM on phone.
He says Instead of implementing the redundancy plan, RVR has resorted to terminating contracts and dismissing workers on petty issues.
Meanwhile the chairman general National organization of trade unions, Usher Wilson Owere says the problems at the railway company are bigger and need government intervention.
"There is a very big problem. We have contacted the management to listen to workers. They (workers) wrote a letter recently to the Executive Director in Nairobi, but up to now they have not got any feedback," Owere said.
RVR won a 25 year concession to provide passenger and freight services along the Uganda-Kenya route.
One of agreements of the concession is for RVR to invest in the railway from Kenya to Uganda. However questions have been raised about how much it has invested since it won the concession.
Recently, Uganda and Kenya expressed concern over RVR's under performance, saying the two governments would strengthen monitoring of its activities.