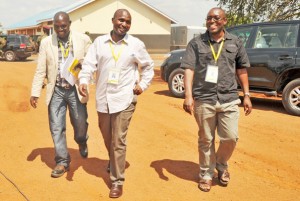 The case against the four MPs, expelled from the NRM Party has been adjourned.
This followed questions raised on the practicing license for defense lawyer Prof. George Kanyeihamba.
The four MPs; Barnabas Tinkasimire, Mohammed Nsereko, Wilfred Niwagaba and Theodore Sekikubo were dragged by fellow MP Saleh Kamba.
Kamba wants them thrown out of Parliament, following their expulsion from the NRM Party and asserts that their stay in Parliament is illegal.
Lawyers representing Mp Saleh Kamba argued that Prof. Kanyeihamba cannot take part in the matter because he has no license.
However Kanyeihamba said he had a valid license, duly signed by the chairperson of the Judicial Service Commission, Justice James Ogoola.
Defense lawyers also noted that one of the accused Hon Mohammed Nsereko was not served.
The three constitutional justices have now adjourned the case to the 12th June this year.
Story by Herbert Zziwa