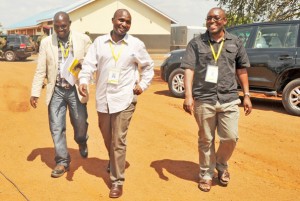 The four MPs recently expelled from the NRM Party have joined the Attorney General in challenging a petition filed by fellow MP Saleh Kamba.
This is after the Attorney General agreed to their application seeking to join the petition as co-respondents.
MP Kamba went to Court challenging the decision taken by Speaker Rebecca Kadaga, in which she declined to evict the MPs from Parliament following their expulsion from the party.
The MPs in the application argued that they needed to be party to the case because the outcome of the petition could affect them directly.
Three Court of Appeal judges led by  Justice Augustine Nshiimye, ruled in their favor since there was no objection to the application.
The expelled MPs include MPs Theodore SSekikubo, Wilfred Niwagaba, Mohammed Nsereko and Barnabasa Tinkasimire.
Meanwhile, the Shadow attorney general Abdu Katuntu has dragged the Attorney General Peter Nyombi to court.
The move follows a legal opinion of the latter to the Speaker of Parliament over her ruling on the fate of the four expelled NRM MPs.
Nyombi advised that it was wrong to keep the MPs in the house, since they had been elected to Parliament as members of the NRM.
Addressing journalists at Parliament, Katuntu said the legal opinion lacked merit, was tainted with politics and is not founded in the law.
Katuntu says the Attorney General's letter was disrespectful of the Speaker's office and was partisan in nature.