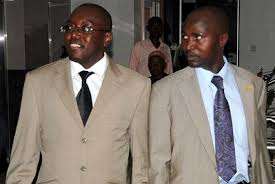 Members of Parliament that were  expelled from the NRM party have hailed the speaker of parliament Rebecca Kadaga for her ruling on their fate.
Addressing journalists at parliament shortly after the speaker ruled that they would retain their seats, the MPs including Wilfred Niwagaba, Theodore Sekikubo and Bernabus Tinkasimire said she had exhibited a high level of independence and respect for the Constitution.
They say the situation they have been facing has only served to strengthen them, vowing to continue fighting for the good of the common man.
Kadaga said there was no constitutional grounds on which the MPs could be thrown out Parliament.
The NRM party recently expelled them over indiscipline and the party's Secretary General Amama Mbabazi called for their expulsion from parliament as well, sparking heated debate across the political divide.