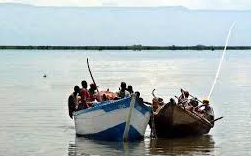 The government says it is scaling up search and rescue efforts in Lake Albert after an accident left an estimated 100 people dead.
The incident occurred on Saturday after the boat capsized on Lake Albert in Kabale district. It was sailing from Bugoma in Hoima district heading to the Democratic Republic of Congo (DRC).
According to the Chief Fire Officer Joseph Mugisa, rescue teams have been sent to the site of the incident.
He says the group is a combination of professional teams from Kampala and comprises police, marine, as well as the fire and rescue services.
The passengers are said to have been Congolese refugees who were returning to the DRC from Uganda.
They had been resettled in Kyangwale refugee camp at the height of fighting between the Allied Democratic Forces rebels and the DRC government forces late last year.
Mugisa says there is optimism that some passengers will be rescued.