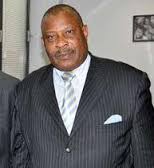 The Uganda Human rights commission is calling for a free and fair trail of the LRA top commander Maj Gen Dominic Ongwen.
Maj Gen Ongwen who is one of the five LRA top commanders indicted by the ICC in 2005 surrendered to the Seleka rebels in the Central African Republic on Saturday and the process of extraditing him is on.
The Commission Chairperson Medi Kaggwa says according to Uganda's constitution Ongwen is still innocent until proven guilty before a competent court of law.
Kaggwa says though Ongwen might have committed crimes against humanity, his rights must be respected when he turns home.