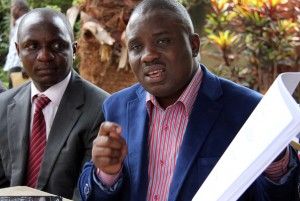 The Police have issued yet another warning to the city lord mayor Erias Lukwago against mobilizing the public for a match to city hall.
This follows plans by Lukwago and his supporters to match to City hall tomorrow to reclaim his office.
The deputy police spokesperson Patrick Onyango says Lukwago's activities are illegal since the government no longer regards him as the Lord Mayor.
He says the police will deploy heavily in and around the city to block the intended move.
Meanwhile, Rubaga North MP Moses Kasibante has been arrested.
He was allegedly arrested as he left old Kampala police station where he had gone to hold a meeting with the police over tomorrow's rally.
According to Mukono Municipality MP Betty Nambooze, Kasibante is reportedly being held at Kakiri police station.
The DPC Old Kampala police station Jerome Mwesigye has confirmed Kasibante's arrest though he does not reveal where he is being held.
The police had earlier warned Kasibante against holding the said meeting which is meant to discuss the return of the city lord mayor Erias Lukwago to office.
Lukwago was thrown out of office in November last year after he was impeached by a majority of City councilors.
However, Court issued an order blocking his impeachment, but the Attorney General has maintained that he is no longer reognised as Lord Mayor.