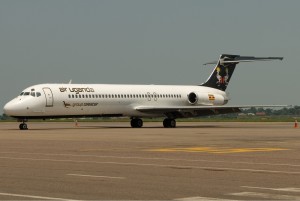 By Richard Luyombya
Rwanda's flag carrier airline RwandAir is set to begin operations in Uganda to fill the gap that has been created by the indefinite suspension of business by Air Uganda.
According to the Civil Aviation Authority Manager for Communications Ignie Igundura, the authority has granted the airline and Ethiopian airlines the freedom to operate in Uganda.
Igundura says this is a temporal measure intended to curb the increasing cost of domestic air travel as they try to expedite the recertification of Air Uganda.
"We have given RwandAir and Ethiopian airlines the freedom rights to do the routes that have been severely affected by the suspension. They will be filling in the gap for the time being but if they develop interest on the route, then why should we withdraw?" Igundura says.
He says having more operators on the routes will create competition and give customers more options and subsequently lead to improved services.
The crisis at the airport arose from an audit report by the International Civil Aviation Association that questioned the safety standards of three local air lines that is air Uganda, Uganda air Cargo and Transafrik.
However, Air Uganda suspended business indefinitely accusing the CAA of frustrating business.
In a separate development the Aviation Authority says the aircraft stuck in Mityana district requires dismantling in order to be taken back to Entebbe airport.
On Friday last week, the small plane, which was carrying six American soldiers, crash landed along the Mityana Highway while heading to South Sudan from Entebbe.
The plane had reportedly run out fuel and it had also been established that visibility was bad in the South Sudan airspace.
Igundura says some parts of the fixed-wing aircraft will have to be dismantled because the road is too narrow for the plane to take off.
"That aircraft cannot take off because of the size of the road on which it landed. It wouldn't have the facilities that are required for its take off.  We'll most likely dismantle and reassemble it from Entebbe," he says.