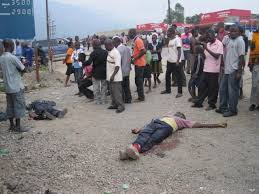 The trial of the Rwenzori attack suspects is set to begin today. According to police 126 suspects are in custody with cases ranging from treason, murder, aggravated murder and assault.
The Deputy Police Spokesperson Polly Namaye said that those who were found with military attire and fire arms are to be tried before the General Court Martial which is to be chaired by Maj. Gen Levy Karuhanga.
She explains that the court process will be continuous, as investigations into the matter continue.
The trial of the suspects before a military court has however, drawn outrage from various circles especially opposition MPs who have described it as unfair.
As calm returns to Kasese district after the deadly clashes blamed on a group of idle youth, plans are underway to address the unemployment problem there.
Action for Community Development a non-government organization plans to impart entrepreneurial skills to over 3000 youth in the district.
The organisation's executive director Obed Kabanda says they have established that youth can easily be drawn into illegal acts once they are not employed.
Last week's attacks left over 90 people dead in the three western districts of Kasese, Bundibugyo and Ntoroko.