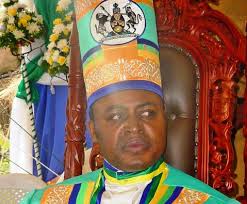 The two cultural leaders from Rwenzori region have agreed to work together in solving tribal differences in the region.
The development followed the 15/7/2014 tribal clash in region that claimed over 100 people.
Now in a reconciliation meeting that was held in Mubende mediated by the defense minister Dr cryspus kiyonga,Rweenzururu kin  Charles Wezire Mumbere agreed to reconcile with Bamba king Martin Kamya to bring harmony and sanity in the region.
The two agreed to jointly sensitize the community to allow co- existence of all tribes and frees interaction as well as creating special committee to steer reconciliation.
According to kiyonga , all process are on course ,and soon mutual understanding will be realized .