In her ruling, Jinja High Court Judge Eva Luswasta says having a fixed place of aboard is one of the key reuirement for bail and Mumbere has two fixed places of aboard in Muyenga a Kampala suburb and in Kasese.
He has been released on a non cash bail Shs5m and his sureties Shs100m each.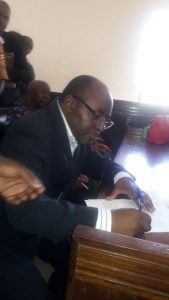 Mumbere presented 6 sureties including 5 Members of Parliament from his region led by the Leader of Opposition Winnie Kiiza and his former premier Constantine Bwambale.
The other MPs are Robert Centenary of Kasese Municipality, Tonny Muhindo of Bukonzo East, William Nzoghu of Busongora North and Atikins Katusabe from Bukonzo West.
Earlier, a team of state attorney's from the Directorate of Public Prosecutions led by Alex Ojok had objected to Mumbere's bail application on grounds that being an influential person in the Rwenziori sub region, he had capacity to interfere with and frustrate the on-going police investigations within the area.
Now the judge has prohibited him from travelling to Kasese, Kbarole and Bundibugyo.