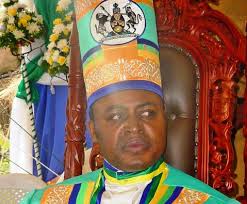 The police have refuted reports of the arrest of the Rwezururu King Charles Wesley Mumbere.
In a statement issued this afternoon, the deputy police spokesperson Polly Namaye says that police has not under any circumstance attempted to summon or arrest the king.
She however does not rule out the possibility of summoning the king in connection with the recent attacks on the Rwenzori region that claimed over 90 people.
She adds though, that the kingdom Prime Minister Noah Nzaghale, and two other kingdom officials are still under police custody.
Addressing the media yesterday, the Omusinga said government was chasing the wrong enemy and vowed to protect his Kingdom as a professional soldier.