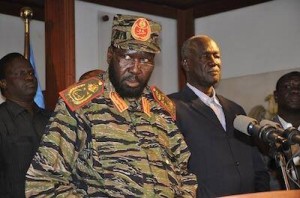 "Uganda forces are not aiding the government of South Sudan'', says South Sudan's Ambassador to Uganda, Samuel Luate.
He says the presence of Uganda People's Defence Forces in the country is purely for evacuation.
Yesterday, former Vice President, Riek Machar claimed that Uganda fighter jets backing President Salva Kiir's forces bombed Bor town, however the Ugandan government has dismissed this.
Luate says other countries are doing the same and this should not be cause for alarm.
South Sudan church leaders living in Uganda are calling for the fast tracking of peace talks between President Salva Kiir and his former deputy, Riek Machar.
Fighting between government forces and rebels under the auspices of Machar has left the rebels taking over the oil rich Bentui capital, with regional leaders fronting for dialogue to end the strife that has left at least 500 people dead.
Addressing the media at the South Sudan Embassy today, the Bishop of the Episcopal Diocese of Yambio and chairman South Sudan congregations in Kampala, Rt. Rev. Peter Munde saysthe fighting has left the country, which recently got its independence, in turmoil.
Bishop Munde says bodies such as the United Nations and African Union should act sooner before the situation gets out of hand.
Earlier, religious leaders under the Inter-Religious Council of Uganda said they were set to intervene in ending the insurgency in South Sudan.
The told a news conference held in Kampala that they had started mobilizing funds to send a team to mediate in the ongoing conflict.
Clashes broke out between troops loyal to President Salva Kiir and others backing his former deputy a week ago.