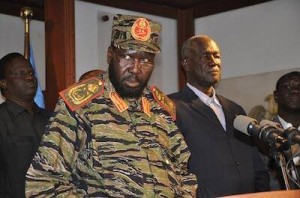 The Speaker of the South Sudan parliament has said that no letter was written by President Salva Kiir to his Ugandan counterpart requesting deployment of UPDF troops.
Addressing journalists at parliament in Kampala today, Manaseh Magok Rundial said that while President Kiir asked his Ugandan counterpart for assistance and intervention, communication was verbal and not written.
Meanwhile chairperson of the committee of peace and reconciliation David Ukuero has said that what matters is not the letter but efforts that were taken to return normalcy in the country.
The revelation comes just a day after Ugandan Members of Parliament on the Defence and Internal Affairs Committee demanded that the officials from the defence ministry produce the said letter.
The development also comes a day after the two warring parties in the South Sudan conflicts agreed to a ceasefire agreement that is expected to take effect within 24 hours.