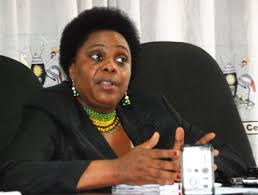 Security minister Ms Mary Karooro Okurut has the ordered police to embark on an operation to curb illegal ownership of guns.
Paying tribute to the slain deputy DPP Joan Kagezi, Karooro has blamed the rampant shootings in the city on illegal possession of guns, asking the police to take immediate action.
Relatedly, the Police have released the postmortem report on slain Assistant Director of Public Prosecution Joan Kagezi.
According to the report, the deceased was shot at a close range on her right side causing instant death.
The late Kagezi was shot dead on Monday night by unknown assailants who were trailing her on a motorcycle at Kiwatule.
The deputy police spokesperson Polly Namaye says burial arrangements can now proceed preliminary investigations have been completed.
She adds that the police will remain deployed at all the remaining events including tonight's vigil in Kiwatule and burial in Buakasa tomorrow.
The Uganda Joint Christian Council too has spoken out, asking believers to desist from engaging in acts of terrorism which are leading to the death of innocent people.
In his Easter message delivered this afternoon, the council's executive secretary Rev Fr. Silivester Arinaitwe says believers should reflect on Christ's love for mankind as they prepare to celebrate Easter.
Story by Dianah Wanyana