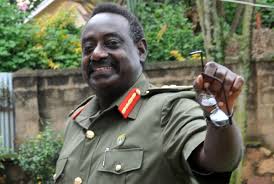 Renegade General David Sejjusa wants his seat in parliament declared vacant.
This is after he revealed that he is not interested in the proceedings at parliament.
According Sejjusa's lawyer Joseph Luzige, the committee has not heeded to their explanations that Sejjusa is not interested in the proceedings, insisting instead on meeting him in London.
Last week, the committee on rules, privileges and discipline said they would publish summons in both Local and British media to have Gen. Sejjusa appear and explain why he has missed more than 15 parliamentary sittings.
Luzige however says since Sejjusa is no longer interested in his seat as an Army MP, there is no reason for the committee to insist on meeting him.
Sejjusa controversially left the country in May after he made allegations of an assassination plot targeting senior army officers opposed to a succession plot aimed at ensuring that the first son Muhoozi Kainerugaba assumes the country's top office.
The government has denied the existence of such a scheme.