The situation has turned violent at Makerere University where students are now throwing stones at the police.
The students had wanted to access the office of the Vice Chancellor but were blocked by police and shortly after they began throwing stones.
Early this morning, the students went on strike protesting against two issues; the first being the suspension of 15 of their colleagues over alleged theft and the second reason they are giving is the suspension of teaching by their lecturers.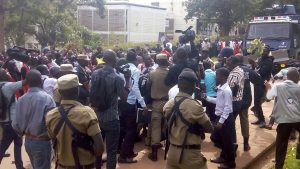 The guild president Roy Ssemboga insists that they want the Vice Chancellor to revoke his decision.
Earlier, the guild leaders attacked the vice chancellor Prof John Dumba Ssentamu, for their colleague's suspension for allegedly stealing cutlery from the university hall's kitchen.
Dumba suspended 15 students yesterday on grounds that they stole 200 forks, vandalized property, and poured cooked food.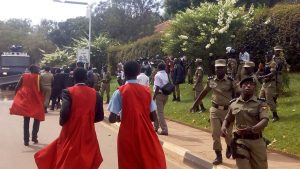 The guild council said the students' suspension was illegal, irrational, unjust and unconstitutional arguing that those suspended should have been given the right to a fair hearing.
In a meeting yesterday, the guild President, Roy Ssembogga, expressed his dissatisfaction with the way the matter was handled.
However,  the university's public relations officer, Ritah Namisango maintains that the Vice Chancellor's action is legal, adding that he has powers to suspend a student from the University or to discipline them in any manner he deems appropriate.