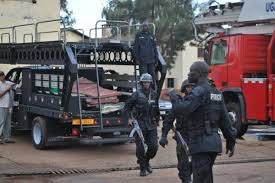 The Police have arrested 6 suspected ADF rebels in Mukono
Among those arrested is Sheikh Abubaker Kayiwa a driver of  an ambulance donated by Mukono municipality MP Betty Nambooze.
The CID officer at Mukono police station Henry Ayebare says these have been taken to the special investigations unit at Kireka for further interrogation.
Meanwhile Nambooze has condemned the manner in which his driver was arrested claiming that police arrested him after disguising as patients .
Nambooze has also called on police to ensure that those arrested are produced in court before 48hours.