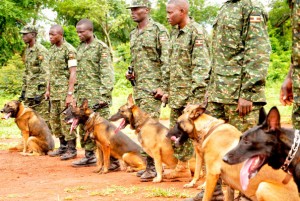 The UPDF commanders fighting the Lord's Resistance Army (LRA) and their elusive leader Joseph Kony in the jungles of the Central African Republic (CAR), have confessed that tracking him down is more difficult than direct confrontation with him, in face-to-face combat.
The UPDF contingent has now deployed sniffer dogs to track down Kony and his rebels.
The commander of the Ugandan Military Contingent in CAR, Col Michael Kabango, told the Sunday Monitor in an interview in Obo Town, CAR, recently, that when the country's former president Francois Bozize was overthrown last year, the UPDF halted operations against the LRA. He said this gave Kony and his rebels a lifeline.
"We had to remain in defensive positions and this gave LRA time to be free and reorganise," Col Kabango said.
He said hostile local armed groups, unstable government in CAR, sparse population and thin presence of troops are some of the challenges impeding the offensive against Kony.
For example, Seleka armed group that overthrew president Bozize is still close to and collaborates with LRA, Col Kabango said.
Before the Seleka was pressured by the international community to hand over power, the group had ordered UPDF and American troops to leave CAR.
Other groups like Janjaweed and armed pastoralists like Ambororo, have also been hostile to the Ugandan troops, making the operations against Kony more difficult.
The UPDF fighting squads, deployed across the 1,300km stretch of thick and vast jungles are overstretched and are the only active force out of four armies mandated to fight LRA.
This has increased pressure on the UPDF as it's the only force fighting the rebels on the ground. UPDF is also not allowed to operate in DR Congo territory where military sources say the bigger group of the LRA rebels are now moving to from CAR.
According to military sources in CAR, the rebels are suspected to be moving to DR Congo to get ivory or dig up arms they buried there when they were withdrawing in 2010.
To conceal their movements, the LRA rebels have also scattered in small groups and do not use phones to communicate.
This has made it difficult for the UPDF and US special forces to monitor the LRA movements through signal tracking by satellite.