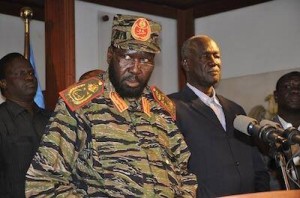 The South Sudan government has accused Dr Riek Machar and his group of violating the cessation of hostilities agreement.
This comes a day after IGAD indefinitely suspended peace talks in the Ethiopian capital Addis Ababa after rebels raised some concerns.
Addressing journalists at the South Sudan Embassy, South Sudan Ambassador Samuel Luate has accused the rebels of pulling out of the peace negotiations with an intention to reorganize and wage war and Riek Machar should be blamed for the failed talks.
He adds that while the South Sudan government is still open to negotiations, it will not hesitate fighting back if the rebels do not stop attacking government positions.