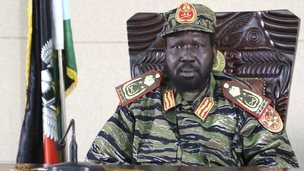 The South Sudanese president remains in good health and is carrying on his duties.
This is according to the presidential spokesman.
The news comes after he visited a hospital yesterday in Addis Ababa after reportedly suffering nose bleeds.
Citing an official from the regional body Inter-Governmental Authority on Development, the BBC reported that Kiir was taken to hospital after becoming ill last night.
The official said Salvar Kiir's hospitalisation has delayed talks about the conflict in South Sudan.
But a source in Addis Ababa today said that the president was present at meetings this morning. Dhieu Mathok, a negotiator of SPLM-IO said that Kiir met with Riek Machar this morning.
Meanwhile, the press secretary in South Sudan's Office of the President in Juba, Ateny Wek, responded to a media report that the illness was stress-related, saying it was not true and threatening legal action against a local media house.
Juba-based Eye Radio reports that speaking at a news conference at the presidency this afternoon, Ateny said, "Notwithstanding all these allegations, the Office of the President would like to inform the public that the information is false [and] farfetched."
"H.E President Kiir is in good health and he is going about his normal duties as head of state and government of the Republic of South Sudan," Ateny said.